Welcome to Cloudtalk Counselling and Coaching and thank you for visiting this website. I'm guessing that you have some questions about counselling or coaching. If you haven't been to a counsellor or coach before you may be nervous about making contact, so I hope I can put you at ease.
"I feel there has been a big leap forward in the last month. I've stopped thinking about past events all the time and that has helped me to put it behind me and focus on now."
BF, Cobham
The first session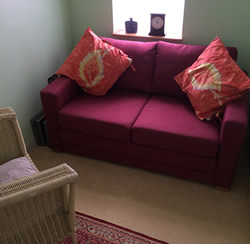 With counselling clients, I work from a dedicated room at my home in a quiet cul-de-sac in Bookham, between Guildford and Leatherhead. This is entirely private and confidential; the only exception is if I think you might harm yourself or someone else (for counselling clients I take your GP details). With coaching clients, I work at a table, as more writing is involved.
We can have an initial telephone or email conversation to discuss how I might help. On the first session I will take details and make notes, and we sign a contract which outlines our commitments to each other. Then you tell me about your situation and your goals, and we take it from there. I will clarify what I think I have heard and offer ideas as to what we might cover, but you are free to decide what aspects you cover each week.
Talking through a problem or challenge with a qualified professional can help you to explore issues, find solutions and enable you to live a more fulfilled life. For many of my clients the appeal is that I am both a qualified counsellor and trained coach; they like the idea that counselling can lead to a more action-focussed path, and that coaching will embrace the emotional aspects of life. Some clients switch from one to the other as they progress through the sessions and make discoveries.
How counselling helps
If you suffer from depression or anxiety, I offer objective and non-judgemental counselling in a safe space, to share troubling events and emotions. It will help you gain awareness and acceptance, which can lift a weight from you. I help you to get new perspectives for living more happily. You can learn ways to tackle stress through relaxation and mindfulness techniques. You will find clearer thinking helps you come to better decisions. Read more about my counselling approach and the conditions I can help.
How coaching helps
If you find yourself with life challenges but don't suffer from overwhelming emotional stress, then my coaching empowers you, enabling you to weigh up your choices and reach decisions with clarity. Coaching is more action oriented, while remaining mindful that such decisions impact on all parts of your life. The process is one of dialogue, unravelling your situation, considering questions, making insights and reaching clarity. Find out more about how my coaching can help you.
In each of these processes, taking the time and being listened to, without judgement or constant advice, is amazingly powerful. You do the work and reach the solutions.
How many sessions will you need?
It is entirely up to you how long you work with me; we will discuss this at the beginning and review as we go along. Six, weekly sessions are considered suitable by the NHS for counselling to take effect. Change does not come quickly and you will need support as those changes take place. If you just want a few sessions we can also talk about self help and support from family and friends. I like to have an end session so that we can talk about how you manage in the future. I also like to get feedback from clients to find out how they feel the work with me has helped. Their comments are in testimonials you will see on this website.
You will find contact details to get in touch on the right.