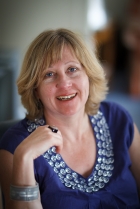 Cloudtalk is the counselling practice of Sandra Hewett, based in Bookham in Surrey. She works from her home in a confidential setting. Sessions are online.
Her core practice approach is person-centred, which is based on the premise that the client knows their thoughts, feelings and beliefs best. You are able to deal with what life throws at you but sometimes you need support and a guide to work through things. So, you co-create the plan together, setting your own goals.
Sandra is a supporter of and cheerleader for her clients, believing that everyone can find a way of living happier and more fulfilled lives, whatever their circumstances or experience. She helps people suffering depressive episodes, anxiety and relationship difficulties. Her specialist counselling field is fertility counselling and she sees couples and individuals referred from clinics as well as those who refer themselves privately.
Her original career was in marketing and public relations and she founded her own public relations consultancy in London, running it for 20 years. She then gained a Foundation Degree in Humanistic Counselling from the University of Greenwich in 2011, and a Coaching Certificate from Coaching Development (accredited by the International Coach Federation) in 2008. She is now an Accredited Member of the British Association of Counselling and Psychotherapy (BACP) and also of the British Infertility Counselling Association (BICA). She follows the BACP Ethical Framework and clients have access to its complaints procedure if required. She also holds the relevant insurance.
If you would like to find out more about Cloudtalk Counselling or Coaching, then please phone or email Sandra and arrange a time to talk on the phone, free of charge.